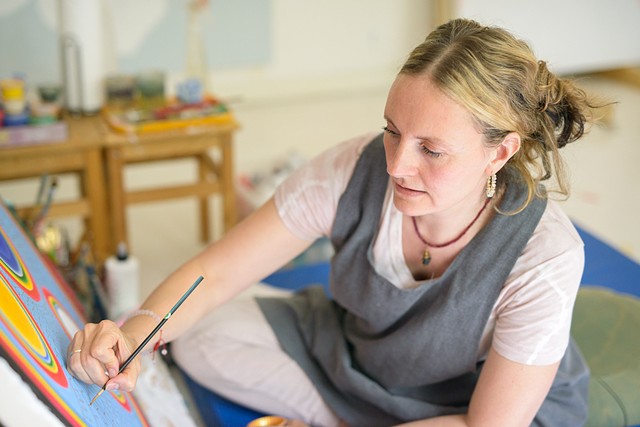 Please be patient while this website it being updated/redesigned for 2022.
"Lyrical musings on figuration in painting and that dimension of mind which is beyond the senses, Christina's work plumbs the imagination and subtle strata beyond consciousness to penetrate life's deeper meanings and inherent poetry. Landscapes of magical elements, universes of pure mystery, divine energies at play, Burch's work is a symbolic exploration of the sublime and mystical dimension beyond the ordinary. Her major artistic influences include contemporary art, classical Italian art, Japanese aesthetics, taoism and tantric painting."
The work of Christina Burch has been exhibited internationally and is represented by Voltz Clarke in New York and Adler & Co. Gallery in San Carlos/Silicon Valley. Her work adorns many personal shrines and sacred sites around the world and is held in many private collections including the Mugrabi collection in New York. Special clients and collaborators include: Swarovski, Bazaar Magazine, Alberto Mugrabi, Moskov, Salvatore Ferragamo, the Taubman Center and University of Michigan. In addition to her galleries, Christina's work has been on view at the San Francisco Art Market, Art Silicon Valley, The Armory Show, and Artnet. Her major artistic influences include Contemporary Art, classical Italian painting, Japanese Aesthetics, Taoist and Tantric Art.
Christina was born in New York in 1972, raised in Nashville, Tennessee, and began oil painting at the age of eight years old. She went on to receive a B.F.A. in Printmaking from the Rhode Island School of Design in 1994, which included a year abroad in the RISD European Honors Program in Rome, Italy. After graduating, she moved to New York City. Art, philosophy and life in the city with its fabulous galleries and museum collections combined with her extensive travels in Europe and Asia formed the bulk of inspiration for her early figurative painting. Christina studied classical, modern and contemporary art between Venice, Italy and New York City completing her Masters in Painting at New York University in 1998. While working out her art studio in Chinatown on Manhattan's Lower East Side, a growing interest in the energetic component of the figure, anatomy, embodiment and enworldment led her to pursue a second Master's degree in Classical Chinese Acupuncture. In 2008, she moved to Ann Arbor, Michigan. She spends her time between Ann Arbor and the mountains where mysticism, meditation, yoga, acupuncture, stones, herbalism, teaching and being in nature continues to inspire much of her work.